Stefi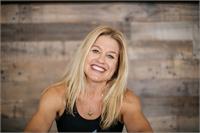 Stefi graduated from the University of California, Davis where she participated on the swim team and received her Bachelor's Degree in Agricultural and Managerial Economics. She worked in the banking industry for years before her children were born. Stefi started taking Bikram Yoga when the studio opened in 2007 and hasn't stopped. "I love how you get incredible stretching, cardiovascular workout, and strength training- the facial, massage, and detox are an extra bonus!" Stefi graduated from OHM School in 2015 and attended the Inferno Hot Pilates Teacher Training in 2016 and has been teaching all of our classes since. In addition to spending time with her husband and four teenage daughters, Stefi loves any excuse to be outside and especially enjoys water sports.
Stefi instructs the following:
60-Minute Express Class:

Includes all Bikram Yoga postures done once and several done twice with 105 degree heat. This is a fast moving class for experienced practitioners and/or people short on time.




Bikram's Beginning Yoga Class:

Every class is beginner's-level and practiced in a heated room to increase circulation and warm your muscles.

The series of 26 yoga postures, 2 breathing exercises, is suitable for all ages, body types, and levels of ability. The Bikram Yoga series was scientifically designed to stretch and strengthen every muscle, ligament, tendon and joint, and promote the development of a strong, lean, and more balanced body.

A minimum of 3 classes per week is strongly recommended to experience optimal results.




Cyclone Cycling is a non-heated, 45-minute, fat burning, cardio session. We ride to the beat and dance on the bike. The music is the road.

Cyclone is a full body workout. We incorporate choreography during the ride to strengthen your upper body, sculpt your abs and improve your coordination.




Inferno Hot Pilates:

Inferno Hot Pilates is a full body, low impact training system that combines Pilates principles with high intensity interval training performed in a heated room.

The heat helps loosen muscles and the humidity makes you sweat: elevating your heart rate, boosting metabolism and promoting detoxification.

The high intensity interval training keeps your heart rate up, helping you burn fat and increase fitness levels. The Pilates principles sculpt your body, creating long lean muscle mass and a strong core.