Judith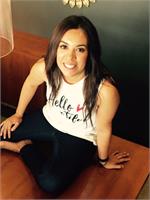 Judith started practicing Bikram Yoga in January 2012 after a doctor recommended it would be good to alleviate stress. Judith quickly experienced the results physically and mentally. After 3 years of a consistent practice she decided to become a certified Hot Yoga Teacher and graduated from the Sterling Hot Yoga Teacher Training in the Summer of 2015. Judith graduated from Arizona State University in 2010 with a degree in Elementary Education. After teaching middle school science she returned to school receiving her Masters in Educational Technology from Grand Canyon University in Spring 2013. Judith continues teaching students in the middle school classroom and adults in the hot room. When she is not teaching you can find her spending time with family, hiking or in California!
Judith instructs the following:
Bikram's Beginning Yoga Class:

Every class is beginner's-level and practiced in a heated room to increase circulation and warm your muscles.

The series of 26 yoga postures, 2 breathing exercises, is suitable for all ages, body types, and levels of ability. The Bikram Yoga series was scientifically designed to stretch and strengthen every muscle, ligament, tendon and joint, and promote the development of a strong, lean, and more balanced body.

A minimum of 3 classes per week is strongly recommended to experience optimal results.