Lisa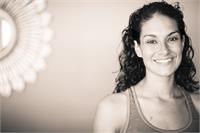 Lisa grew up in Northern California and moved to Arizona in 2005. She graduated from ASU in 2009 with her degree in Dance Performance. She was introduced to Bikram Yoga in 2010 and felt it was the perfect compliment to her dance career. She was hooked after her first class. Lisa attended Inferno Hot Pilates teacher training in March 2016 and Level 2 IHP training later that same year, and has been teaching IHP classes since March 2016. She loves the combination of Yoga and Pilates and feels such a sense of fulfillment when teaching as she helps others achieve their goals.
When she isn't at the studio, Lisa loves to spend time with her husband and 3 young children, doing anything outdoors, and of course, dancing.
Lisa instructs the following:
Inferno Hot Pilates:

Inferno Hot Pilates is a full body, low impact training system that combines Pilates principles with high intensity interval training performed in a heated room.

The heat helps loosen muscles and the humidity makes you sweat: elevating your heart rate, boosting metabolism and promoting detoxification.

The high intensity interval training keeps your heart rate up, helping you burn fat and increase fitness levels. The Pilates principles sculpt your body, creating long lean muscle mass and a strong core.