Kelly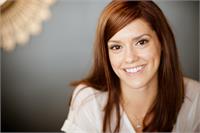 Kelly started practicing Bikram Yoga in January 2008 at 19 years old, after a close friend dragged her to a very early Sunday morning class. She quickly became addicted to the sense of accomplishment she felt laying in final savasana at the end of class. But what kept her coming back was the profound calming effect the yoga gave such a high-strung, stressed-out girl. The yoga has helped her find a sense of peace and "laid-back-ness," two things she had struggled finding a balance with for 19 years prior. More than four years later, she became a certified Bikram Yoga instructor in the Spring of 2011 in Los Angeles, and has been teaching at BYA since. Kelly graduated from Arizona State University in December 2010 with her degree in Journalism and Mass Communication, and has held positions at the Arizona Republic and Phoenix New Times. She has also had the opportunity to travel across Europe and study abroad in Spain. A second-generation Arizona native, Kelly loves to write, hike, travel, and is passionate about anything to do with food.
Kelly instructs the following:
60-Minute Express Class:

Includes all Bikram Yoga postures done once and several done twice with 105 degree heat. This is a fast moving class for experienced practitioners and/or people short on time.




Bikram's Beginning Yoga Class:

Every class is beginner's-level and practiced in a heated room to increase circulation and warm your muscles.

The series of 26 yoga postures, 2 breathing exercises, is suitable for all ages, body types, and levels of ability. The Bikram Yoga series was scientifically designed to stretch and strengthen every muscle, ligament, tendon and joint, and promote the development of a strong, lean, and more balanced body.

A minimum of 3 classes per week is strongly recommended to experience optimal results.