John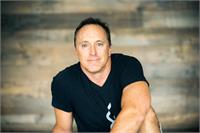 John grew up in Litchfield Park, AZ and graduated from The University of Arizona with a degree in Business Economics. John began farming with his family (four generations of cotton farmers) in 1991. John took his first Bikram Yoga class in 2001 and immediately connected with the practice. "You get out of this yoga exactly what you put into it. It's up to YOU!" He became certified to teach in the Spring of 2005 and went on to compete as a representative of Arizona in the National Yoga Asana Championship in 2006, 2007, 2008 and 2009 where he placed 5th in the nation. When John isn't stretching and sweating in the yoga room, he can be found sweating on the farm, on his mountain bike, hiking in the desert or poolside with his two daughters.
John instructs the following:
Cyclone Cycling is a non-heated, 45-minute, fat burning, cardio session. We ride to the beat and dance on the bike. The music is the road.

Cyclone is a full body workout. We incorporate choreography during the ride to strengthen your upper body, sculpt your abs and improve your coordination.




Bikram's Beginning Yoga Class:

Every class is beginner's-level and practiced in a heated room to increase circulation and warm your muscles.

The series of 26 yoga postures, 2 breathing exercises, is suitable for all ages, body types, and levels of ability. The Bikram Yoga series was scientifically designed to stretch and strengthen every muscle, ligament, tendon and joint, and promote the development of a strong, lean, and more balanced body.

A minimum of 3 classes per week is strongly recommended to experience optimal results.