Shelby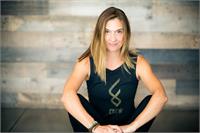 Shelby graduated from Arizona State University with a degree in Business Economics. She worked in business sales for years when she stumbled upon what would quickly become her true passion - Bikram Yoga. Shelby took her first Bikram Yoga class in 2001 and knew that she would practice this yoga for the rest of her life. After the birth of her first daughter Shelby decided it was time to leave the corporate world and pursue her dream of becoming a Bikram Yoga teacher. She completed Bikram's Teacher Training in the Spring of 2005 and opened BYA with her husband in 2007. "Best job EVER! This yoga has changed my life and now I get to watch others transform their lives." Shelby has two daughters and a big black dog. She loves cooking, music, shopping and anything having to do with design. She can be easily bribed with a good cup of coffee and anything dark chocolate.
Shelby instructs the following:
Cyclone Cycling is a non-heated, 45-minute, fat burning, cardio session. We ride to the beat and dance on the bike. The music is the road.

Cyclone is a full body workout. We incorporate choreography during the ride to strengthen your upper body, sculpt your abs and improve your coordination.




Inferno Hot Pilates:

Inferno Hot Pilates is a full body, low impact training system that combines Pilates principles with high intensity interval training performed in a heated room.

The heat helps loosen muscles and the humidity makes you sweat: elevating your heart rate, boosting metabolism and promoting detoxification.

The high intensity interval training keeps your heart rate up, helping you burn fat and increase fitness levels. The Pilates principles sculpt your body, creating long lean muscle mass and a strong core.




60-Minute Express Class:

Includes all Bikram Yoga postures done once and several done twice with 105 degree heat. This is a fast moving class for experienced practitioners and/or people short on time.